I had a feeling this would happen at some point. I just didn't expect it to be this early. I'm yet to figure out KLM's numbering system, as there's no KL1.
(That's actually partly true, KLM1 was used in February 2017 in Glasgow for what looks like circuits. Not sure if this is where KLM take new recruits, or whether it's somebody using the KLM callsign.)
A long time ago
KLM is the oldest airline in the world that's still running under its original name. Since 1919, they've been flying with the royal Dutch name and colours.
While trying to figure out KL1, I looked at some of their oldest routes to get an idea of what it would have been in the past. Rather fittingly from last week's BA1 from London, it turns out their first ever flight was from London to Amsterdam.
Rather personal to me, it was from Croydon airport–known as London Airport at the time. It's where Clemte Attlee waved a bit of paper around that said Hiter will not invade Poland (the first fake news?) But it's also where I learnt to ride my bike.
There's no planes there anymore, but you can see a photo of a KLM DC3 outside the terminal to imagine what it would have been like.
Today
KLM1000 it is for now. Their callsign is their name, so this is "KLM one zero zero zero." Almost always a 737–700 or 737–800. KLM are heavy users of the 737, one of only a few carriers in Europe to use them in their fleet to this extent (Ryanair being the other big one). Most other airlines have switched to the arguably more modern Airbus. And now that airlines are looking at the next generation of aircraft already, their replacement announcement is probably overdue.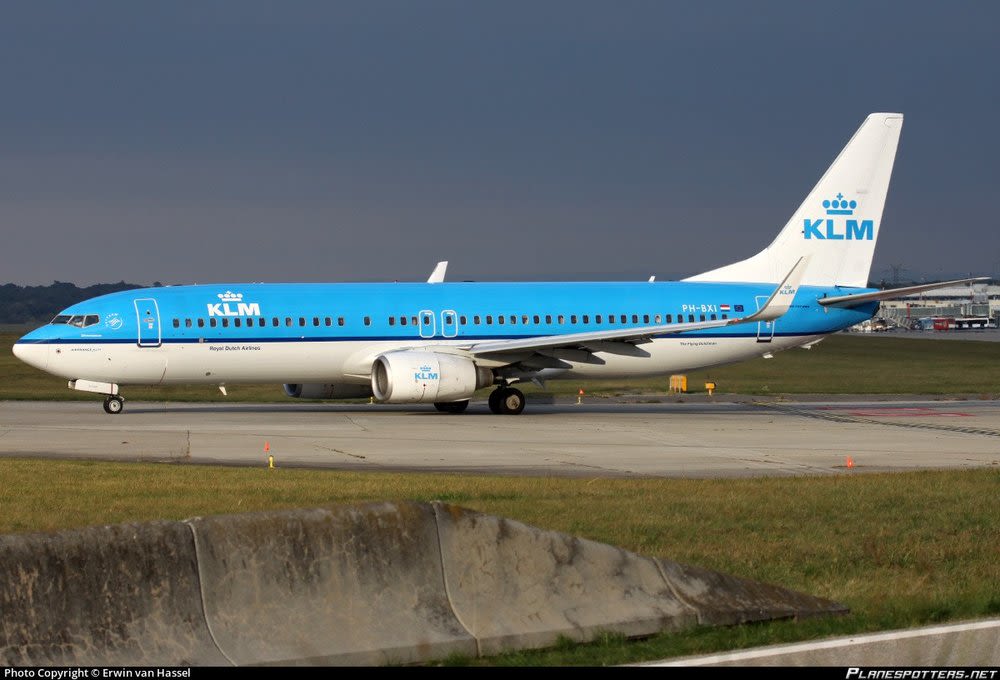 KLM1000 departs London Heathrow every morning at 6.30am, arriving in Amsterdam normally just before 9am. Perfect for the Dutch businessperson with a meeting in London. However it's more likely that you'd take one of KLM's Fokkers from London City, so it's more likely to be people connecting to one of KLM's long-haul flights.
Heathrow opens for business at 6am, and KLM1000 is one of the first out as the traffic starts to build up. Amsterdam's Schiphol airport, where KLM1000 arrives, has a special runway for night time operations that allows planes to disturb as few people as possible, but it's also used for some arrivals at busy times of the day. The only downside of this runway is that it's quite far from the terminal, and so it takes 15 minutes to taxi to the gate after landing. Which on a 45 minute flight from London feels hilariously long. With a little queuing at Heathrow, you are easily in the plane on the ground than you are in the air.
It's one of about seven or eight Heathrow to Schiphol flights for KLM, with a few more from London City.
## Future
KLM are struggling with the same problems that many older European carriers are. British Airways and Lufthansa both operate a similar business model, with a major hub for long-haul, connecting to European cities. But the rise of the cheap long-haul flights, this model becomes a threat. Now jointly owned as part of KLM-Air France, they are investing in their budget airline Transavia, which also flies out of Schiphol.
While it's unlikely KLM will stop flying to London, perhaps their flagship route will become one of only a couple flights a day as people prefer to fly direct, or from Stansted or Luton on a cheaper airline.