Last week I looked at KLM's flagship flight. Well, I tried to. I ended up looking at KL1000, which is as close to 1 as I could find. KLM is one of the oldest airlines in the world, founded in 1919. KLM's first flight was from London to Amsterdam. Before that I got teary eyed with the history of BA1, from London to New York.
Rather remarkably this third look also features a London flight. Flying to London would appear to be one of the most exciting things for most airlines.
## A short history
Emirates is a relative new-comer to the airline world, founded in 1985. Just a few years later in 1987, it started flying non-stop to London Gatwick, daily with an Airbus A310. Their callsign is simply "Emirates".
Their fleet today is made up of entirely long-haul aircraft. Almost 100 A380 'superjumbos' and over 150 Boeing 777s.
## Today
I can't find when the EK1 callsign was first used for a London-flight, or if the Gatwick flight ever used it, but today EK1 is Emirates' flagship flight from Dubai to London Heathrow. It departs Dubai at 7.45am, arriving in London at 12.15pm.
The aircraft of choice is also Emirates' flagship: the Airbus A380.

These things are massive. Like, really big. No, bigger than that. Not many airlines have invested in them, normally only for a few key routes. If you live in the USA or Canada, or a lot of continental Europe, it's unlikely you've ever seen one.
To get the scale into your mind, the Wright Brothers's first ever flight managed to takeoff and land in a distance that's just less than an A380's wingspan. One A320, that you might go easyJet with, or one Ryanair 737, would fit on one wing.
If that's not enough to try and imagine, now imagine 25 of them parked next to each other in Dubai.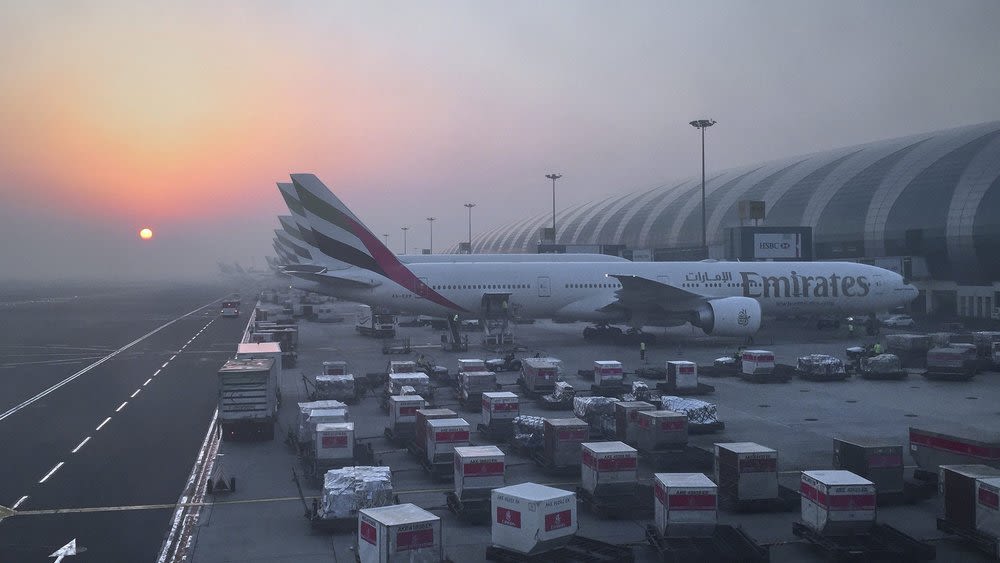 Not only are the planes big, but the terminal building Emirates use is the second largest building in the world, measured by floor space.
Emirates are quite well known for their opulent business and first class cabins. Casey Neistat, the filmmaker, was lucky enough to end up in first class and made a short film about it.
Back to the flight
Emirates' main goal is to connect people through its global superhub in Dubai. EK1 serves as one of nine or ten flights from Dubai to London a day — flying into Gatwick and Heathrow, almost entirely A380s.
The flight time is about 7 hours and a half. Currently due to activity in the Middle East, it carefully navigates around Syria and Iraq. Maybe when the countries become safer they can shave a bit of time off that.
Future
Emirates looks in a pretty good place at the moment. The world of air travel is changing quite dramatically at the moment. A lot of airlines are moving towards point-to-point travel, where you connect from one place to another by getting one flight. Lookout over the next decade as more of these start appearing — Cardiff, Wales to Portland, USA?
However, Emirates have completely turned this on its head and can connect the most remote places in the world with one change in Dubai. Emirates has one of the longest flights in the world: Dubai to Auckland.
The future looks good, and UAE connection with London could not be stronger at the moment. Whether or not that will falter when/if the UK leaves the EU, but for now I imagine that enough people have a flat in Dubai and London that I can't imagine EK1 disappearing being replaced soon.
---
Further reading